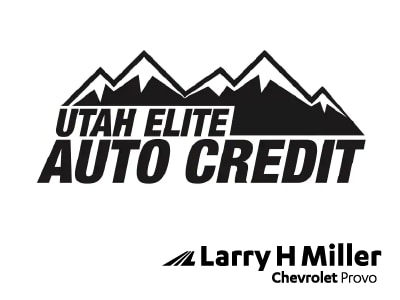 UTAH ELITE AUTO CREDIT AT LARRY H MILLER CHEVROLET
Larry H. Miller Utah Elite Auto Credit has been helping people get back on the road to re-establishing their credit for more than a decade. This includes assisting those with open Chapter 7 & 13 bankruptcies, discharged bankruptcies, multiple bankruptcies, foreclosures, tax liens, repossessions, collections, and judgments, among others.
Whether it is due to medical bills, divorce, loss of your job, or just a financial hardship, we can help with less-than-ideal credit improve their credit scores and secure an auto loan in Utah. We work with people who have no previous credit, good, fair, or even bad credit histories because the truth of the matter is that everyone can benefit from better credit and building NEW credit is a vital step to accomplishing this. We also offer financing options with no money down.
We have established relationships with many lenders that other dealers are not able to provide. This allows us to offer the lowest rates, best quality vehicles, and simply more financing options. These lenders are reputable and report to all credit bureaus so you can begin to re-build your credit.
Starting the process is simple. It only takes a few minutes to fill out our secure finance application. We will have a member of our credit team contact you that same business day. If you are more comfortable contacting a team member directly, please call us at (855) 530-3322
No one understands your situation better than we do. You can expect to deal with a friendly and professional consultant that will meet with you one-on-one to review your personal circumstances. We will take the time to explain your options and answer any questions as we fit your monthly car payments into YOUR budget.
We also arrange competitive financing for people in open bankruptcies. Now is the time to start re-establishing your credit. In most cases when you keep your current vehicle, it will no longer report on your credit bureau. This will only delay the process of re-establishment.
One of the many advantages of buying a vehicle with Utah Elite Auto Credit is that we offer the rate-reduction program, which allows you to reduce your interest rate every three months as long as your payments are made on time.
Utah Elite Auto Credit has one of the largest selections of quality vehicles, including Chevrolet, GMC, Buick, Ford, Dodge, Chrysler, Jeep, Toyota, Honda, Nissan, Hyundai, Kia, and many more. We look forward to assisting you!
CAR CREDIT AT LARRY H MILLER CHEVROLET IN PROVO, UTAH